HAVING TRANSFORMED YOUR thoughts into words, we now move on to turning those words into a usable form, like exporting a text document or copying it as a chunk of text to paste elsewhere.
Covered in this part of the user guide are the features and functions in WriteMapper that enable you to export your writing work from the app.
---
3.1 Full Preview
Get a quick overview of the state of your work in its full document form, directly from the WriteMapper app itself with the full document export preview feature.
Besides being great for proofreading, the preview mode also allows you to toggle various modes of exploring your preview, helping you digest your writing quicker and easier than ever before.
A handy full document word and character count calculator is also included, which displays that information for you in preview mode.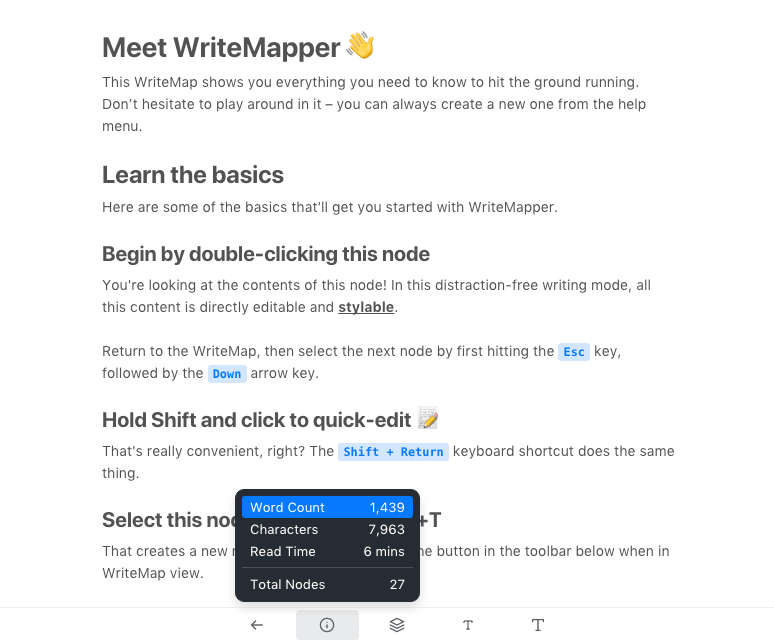 3.1.1 Quick Overview
Get a cohesive picture of what the flow of your work is looking to be using the Full Document Preview feature, directly accessible from the toolbar.
3.1.2 Proofreading
It's great for letting you peruse the entire document created by your mind map, checking through your work and examining it once through.
3.1.3 Show/Hide Contents
If you wish to hide each node's contents in the preview, you can do so, leaving just the headings in the full document mode to further inspect.
3.1.4 Wordcount
You can get a wordcount of the entire WriteMap in by selecting the info button option from the toolbar, where other useful info is also displayed.
3.1.5 Navigate To Node
If you find something you'd like to edit, you can directly navigate to the specific node by selecting the "Open Selected Node" option from the toolbar.
3.1.6 Indented Structure
There is also a further option to display the full document in an indented fashion, making the hierarchy of your work more prominent and distinct.
---
3.2 Compatible File Exports
WriteMapper is not only great for structuring and planning your thoughts and ideas within the app, it's also meant to get them out of the app and out into the world as well — you can then view and edit the result of your work on your writing app of choice with the exported file.
The software helps you transform your hard work creating a fully fleshed out mind map by allowing you to export it to various text documents. The supported file formats were chosen to be widely compatible, and include:
Markdown (.md)
HTML (.html)
Microsoft Word (.docx)
Plain Text (.txt)
Rich Text Format (.rtf)
Outline Processor Markup Language (.opml)
PNG image file (.png)
At the click of a button or tap on the screen, the app goes about automatically generating a fully-formed text (or image of the WriteMap) document for you, which you can then give it its final polish using your preferred text editing app.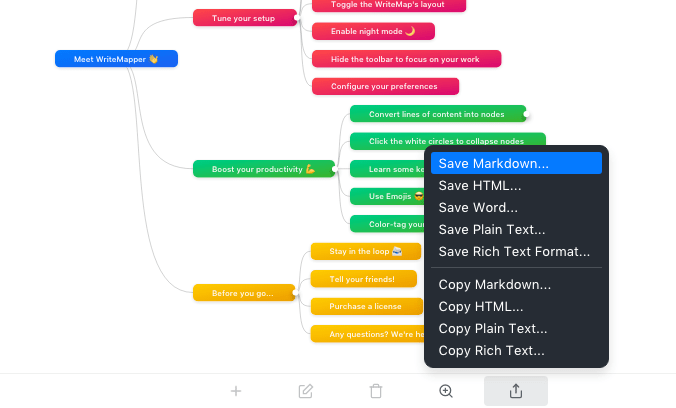 3.2.1 Multiple Formats
Exports were designed to fit into your existing workflow, supporting the multiple file formats above, allowing you to open the exported document in your text editing app of choice.
3.2.2 Structured Content
The exported file uses the hierarchy you created in your mind map, arranging the root node as its title, and subsequent nodes nested linearly below. Besides titles of individual nodes, the text content you entered into the editor of each node gets attached as paragraphs under each sub-header.
3.2.3 Text Styling
To the fullest applicable extent, the contents of each exported text document format is styled in accordance to the styling applied in the content editor. Exported Microsoft Word documents come complete with style metadata for elements such as titles and headings, allowing easy transition across apps.
3.2.4 Copy To Clipboard
For use cases such as for pasting into an input field, you can also copy the exported results directly into your clipboard for your immediate use.
3.2.5 Export Filters
Achieve greater control of how your exported text document turns out with more granular export options, filtering or transforming your WriteMap. The Export Filters settings are available from the Preferences menu of the app.
---
3.3 WriteMap File Format
With regard to file operations like saving or opening files, the WriteMapper app, on all platforms it's available on, operates in a familiar fashion, just like any other app you'd expect on a computer system.
You can save your work as a WriteMap file (.writemap) and store it away on your computer's local storage disk, before coming back to work on it sometime later on. This means you can manage your files however you like, without being bound to a third party cloud storage service.
The great thing about the way this works is that conventional cloud sync systems will also work as intended with your saved WriteMap files, and so you can use services like Dropbox, or iCloud to sync your WriteMaps between your devices.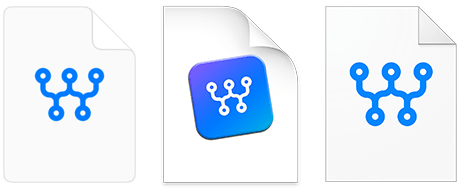 3.3.1 Dedicated Format
By saving your work in its own WriteMap file format, we were able allow you to use your operation system's capabilities to manipulate your WriteMaps as individual files. Directly open the WriteMap file you wish to work on, namely from Finder on macOS, from File Explorer on Windows, and from the Files app on iOS.
3.3.2 Save Files
Like regular, traditional documents, you can save your work to a specified folder in your computer iOS device, naming, copying and moving the WriteMap files as you wish.
3.3.3 Access Recents
Across all platforms, WriteMapper is able to remember the recent WriteMaps you've worked on, and have them easily within reach from the recents menu. On desktop versions, this is is available from the File > Open Recent menu bar option. On the iPad or iPhone, the tapping the "Open" button in the introduction view will reveal a list of files you've recently worked on which are stored in the app's own memory.
3.3.4 Works Across Platforms
The WriteMap file uses consistent formatting even across different platforms. For example, a .writemap file created on the iPad will be readable from the WriteMapper app on Windows too.
TIP: Just like WriteMap files, the WriteMapper for desktop license codes are re-usable across platforms, whether you're on macOS or Windows. Check out this support article or the FAQs on our store page for more information.
3.3.5 Keyboard Shortcuts
The usual keyboard shortcuts also work with these file operations, hitting Cmd+S or Ctrl+S will save the current WriteMap, and Cmd+O or Ctrl+O will open one.
3.3.6 Use Cloud Sync
Share and sync your WriteMaps with others and across devices with your preferred third-party cloud services like Dropbox, iCloud or OneDrive. The WriteMap files can be placed in your cloud folder just like any other file, and synced to another destination.
3.3.7 Default Folder
On macOS and Windows versions of the app, you can also specify a default folder to which you can save all WriteMaps to and open all WriteMaps from.
3.3.8 Action Notifications
When you save, export or copy a file, the app shows you visual confirmation via a little notification in the bottom-right of your screen when the action is confirmed to have been successfully completed.
3.3.9 Tutorial WriteMap
For a quick example of a WriteMap file, open the tutorial from the Help menu on desktop, or from the Open menu on the iPad. Visit this support article on how to access the tutorial WriteMap if you need more help on how to do so.
---
3.4 Export Options
You may need more granular options when it comes to configuring the document you want to go about exporting, so as to save time in the downstream process of editing your outline in the word processor.
WriteMapper provides you with a number of options in this regard, ranging from annotating headers to numerous ways to select which pieces of content within the WriteMap itself should be selected for inclusion in the exported document. You may find these options in the Preferences of the WriteMapper app.
Your export settings are then automatically applied, whenever you go about creating an export from your current WriteMap.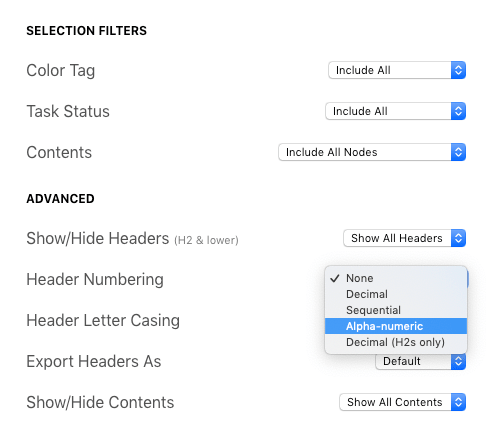 3.4.1 Content Filters
Set which nodes should be included in the final export document, across the wide variety of options from node characteristics, such as color tag, task status, or if the node contains any contents.
3.4.2 Prepend Numbering
You can use this export option to automatically include report-style numbering in your exported document's headers, preventing the need for you to insert them afterwards manually. Various common numbering styles are available for you to choose from as well.
3.4.3 Show or Hide
Gain control over whether to include or exclude certain sections of your work, which aids in better integrating your own workflow. This way, you can for instance use the titles of nodes as more of guides to your writing, which do not actually get exported in your final work, instead only including the written contents of each node.
3.4.4 Header Letter Casing
Automatically transform the headers of each node into the desired letter-case setting, helping your draft turn into the final product. You can choose from three options: lowercase, uppercase and title casing, the last of which will capitalise every first letter in the node's title.
---
3.5 Autosave
We've all experienced times where we've had to deal with re-doing a document, having lost your work as a result of not saving your work, coupled with an accident like your computer crashing.
The Autosave features helps you to save time and gain assurance knowing your work is automatically saved as you go about your work.
If your WriteMap file has been saved before and has a destination location for the app to save to, the autosave function will run periodically, ensuring that your work is saved in frequent intervals. On the iPad or iPhone, your autosaved work may be found in the recents menu, or in the Files app, by navigating to On My iPad/iPhone → WriteMapper.
The autosave function is enabled by default, and you can also disable this from the app's Preferences settings, if you wish.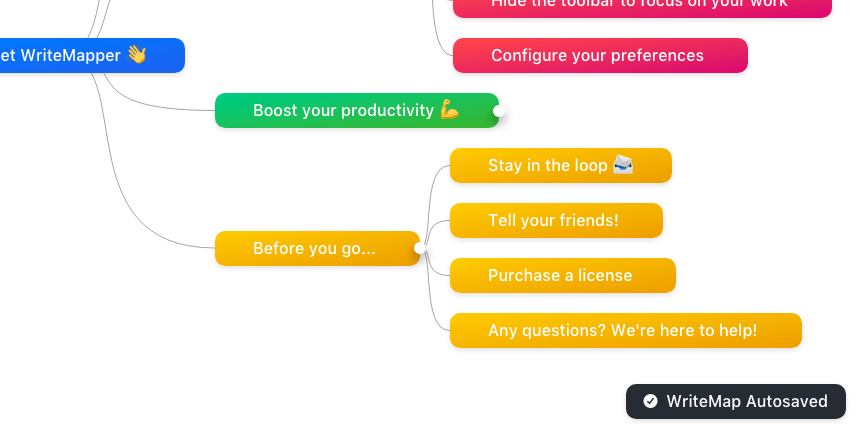 3.5.1 Saves Periodically
The app triggers the save function every few minutes while the WriteMapper app is open, and will save your work if there is an existing file destination to save to on desktop versions of the app.
3.5.2 iOS Autosave
On the iPad and iPhone version, files are autosaved to the Files app periodically, and may be found in On My iPad/iPhone → WriteMapper, and from the app's recents menu by selecting the "Open" button in the introductory view.
3.5.3 Set Preferences
Autosave can be configured to be enabled or disabled according to your desired behaviour of the app, by setting it from the preferences window or menu.
3.5.4 Notifications
When a WriteMap is autosaved by the app, it will also show you visual confirmation in the bottom-right of your screen when the action is confirmed to have been successfully completed.
---
3.6 Snapshots
Mishaps can and do happen — it can be really upsetting and frustrating to lose a few hours of work from little accidents like not remembering to save a file or your device suffering a sudden reboot.
That's why we built the Snapshots feature, which perform automatic, built-in backups of your work to ensure your productivity.
This feature exists as a failsafe to the problem of losing unsaved work, ensuring peace of mind as you can continue working knowing that there are past versions of your mind maps stored safely away on your machine you can always retrieve later on.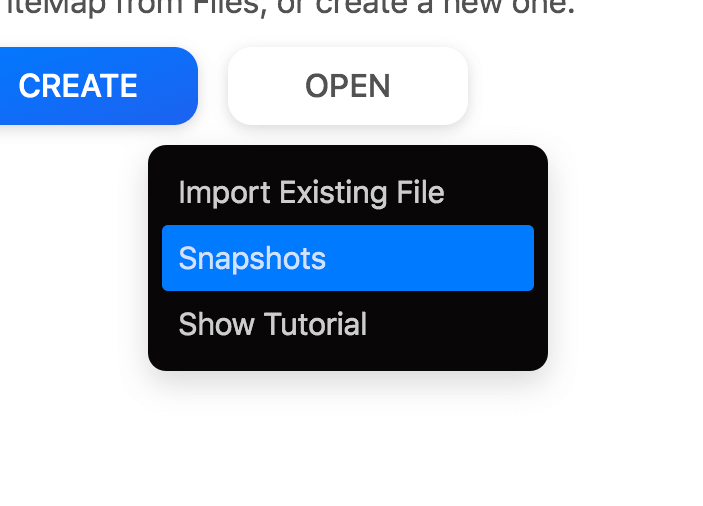 3.6.1 Runs In Background
Backups of your WriteMaps are saved silently and automatically on your device as you work, when you save files and during autosaves. When it comes to retrieving Snapshots, you can do so on desktop versions by going to File > Snapshots > Browse in the menu bar, and Open > Snapshots > Browse from the introductory view on the iPad or iPhone.
3.6.2 Covers Unsaved Files
Snapshots of WriteMaps are also taken for new documents you create that haven't yet been saved to any particular location on your device.
3.6.3 Respects Your Storage
Only the five (5) most recent files are saved on your device's filesystem, and older backups are deleted to prevent excess storage consumption.
3.6.4 File History
You can also use the Snapshots feature as a way to retrieve a past version of your work, as up to five (5) of the most recent versions of each snapshotted file is saved, each individually timestamped in the filename for you to later reference.
3.6.5 Manual Remove Option
Should you wish to do so, you can also manually remove all existing Snapshot files saved on your device, in order to free up storage space. This is accessible also from the Snapshots menu as described above in section 3.6.1, where the Delete All option is also found.
---
3.7 File Import
And for the last part of the WriteMapper user guide, we'll leave you with something that can help with starting your next WriteMap.
Besides exporting your work out as text documents, you can also import other filetypes into the WriteMapper app, and proceed to work on them as a mind map! For starters, WriteMapper supports import of most of the filetypes it currently exports to, namely:
Markdown (.md)
HTML (.html)
DOCX (.docx)
TIP: On desktop versions of WriteMapper, you can drag files from Finder on macOS or File Explorer on Windows, and drop them onto the intro view, which will also perform an import of the file.
Furthermore, we've also included import capabilities for the OPML file format — which has been one of the most-asked-for features from our users in the past.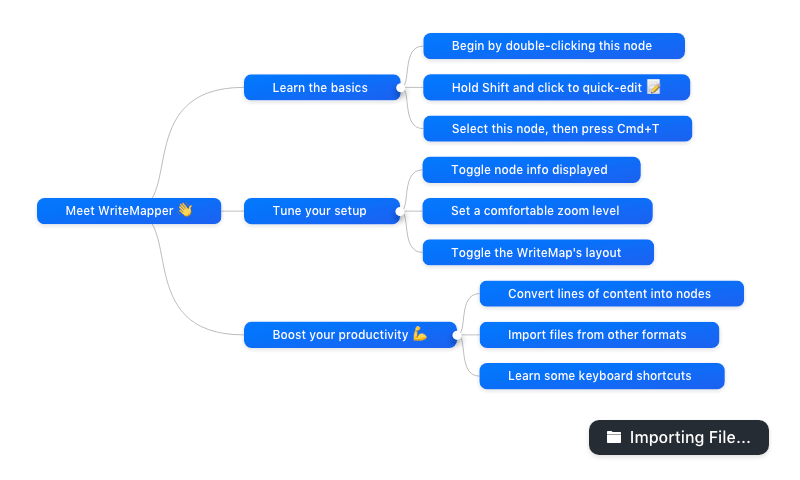 3.7.1 Multiple Filetypes
The import feature supports multiple filetypes, which makes it easy for you to get data into the app and get going from there without missing a beat.
3.7.2 Smart Nesting
The app parses the file you've imported, intelligently turning a linear document into a nested, structured mind map observing the hierarchy of its headings. Paragraphs under headings get tucked away as contents of each node as well, creating a complete WriteMap document for you to work from.
---
And that's all the features there are to learn about in WriteMapper. We'll be adding to this user guide as and when we update the apps across the different platforms, so check back here when we add something new, or you can also sign up to receive updates for when we put out new releases.
If you've got questions about any of the contents of this user guide, check out the support articles (we built instant-search into the page) on our website which might contain answers to your query. If not, feel free to contact us with your questions by emailing [email protected].
In the meantime, we hope you'll find these features useful!